The Old Operating Theatre
Located on the top floor of Saint Thomas's church, the Old Operating Theatre demonstrates Victorian surgery techniques in the oldest operating theatre in the UK. 
St. Thomas's Hospital
The first mention of St. Thomas's Hospital dates back to the thirteenth century, in 1215. It was founded as a monastery in which Augustinian monks and nuns gave shelter to the poor and nurtured the sick back to health. During the Reformation the monastery was closed but it reopened in 1551.
At the end of the seventeenth century, the hospital and church were reconstructed and in 1822 the top floor was transformed into the first operating room in the UK. Here is where life-threatening operations took place until 1862, when the hospital was moved to the Lambeth borough. From then on, the old operating room was closed and forgotten until 1957.
While the operating room was in use, the hospital's apothecary used the herb garret found in the Operating Theatre to keep medicinal herbs.
Patients of the Old Operating Theatre
The hospital's patients were penniless and could not pay for their operations, thus enduring doctors' experiments on their bodies in exchange for free treatment. Wealthier patients were lucky enough to be operated on in their homes, usually on the kitchen table with no spectators.  
From 1822 to 1847, the sick were operated on without any anaesthesia, knocking them out with opium or alcohol. The surgeons hardly washed their hands before or after any procedure, their coats were full of dirt and the floor was covered with straw to collect all the blood that would drip from the patient's cuts and amputations. Meanwhile, the Medical students crowded together close to the nurses to see every detail of the surgery. 
The museum
One of the museum's top attractions is the UK's oldest operating theatre, built in 1822, consisting of a table surrounded with spectator's galleries.
This museum reveals the horrors of the beginnings of surgery, including the instruments used for amputations and other operations.
The Old Operating Theatre also displays medicine techniques practised in medieval monasteries such as St. Thomas's Hospital and Evelina London Children's Hospital.
Small but intense
This museum gives you a real sense of how harsh and appalling the quality of life was for many living in London at the time. Although the museum is small, the space is well used to give its visitors the sense of being present at one of the operations that took place at the time.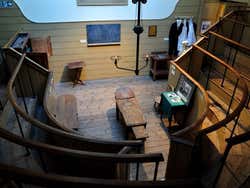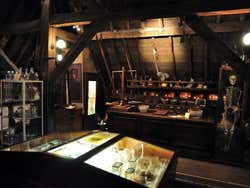 Schedule
Open Tuesday-Sunday and on Monday bank holidays from 10:30 am to 5 pm.
Price
Adults: £ 7.50 (US$ 9.30)
Students: £ 6 (US$ 7.40)
Children between 6 and 16 years old: £ 4.50 (US$ 5.60)
Free entry with the London Pass.
Transport
Tube: London Bridge (Northern and Jubilee lines)
Buses: 17, 21, 22a, 35, 40, 43, X43, 47, 48, 133, 344, 501, 505, 521, P3, P11, E1 and D11.