Located on the north side of Trafalgar Square, the National Gallery is the most relevant art museum in London and one of the most famous worldwide.
Foundation of the National Gallery
The National Gallery was founded in 1824 when the British government bought 38 paintings from the banker John Julius Angerstein for £ 57,000 (US$ 71,260).
From 1824, the gallery began to develop quickly and it currently houses a collection of over 2,300 paintings of which two-thirds come from private donations.
Since its creation, and due to the increase of the collection in a very short amount of time, the gallery has been relocated on three occasions. Currently, the gallery is housed in a building designed by William Wilkins.
The collection
The collection of the National Gallery includes artwork of European origin, from 1250 to 1900, with over 2,300 paintings, including works by Rembrandt, Tiziano, Velázquez, Van Gogh and Michelangelo.
Despite the fact that the National Gallery is much smaller than other renowned museums such as the Louvre, it has paintings of remarkable quality and artistic variety, covering the totality of the history of painting in the occidental world. It is possible to observe how visual art has evolved from the Renaissance period up until Post-Impressionism, in the late nineteenth century and early twentieth century.
Compared to many other art museums, the National Gallery doesn't include any sculptures or decorative objects, preferring to concentrate on paintings.
A landmark in London
The National Gallery in London, located in the emblematic Trafalgar Square, is one of the city's most
important museums, making it a definite must-see, especially as it is free to visit.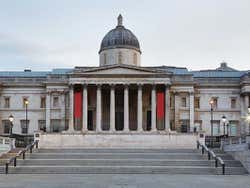 Schedule
Every day: 10 am to 6 pm (Friday until 9 pm).
Closed 1 January, 24 and 26 December.
Transport
Tube: Charing Cross, Northern and Bakerloo lines; Leicester Square, Northern and Piccadilly lines.
Buses: 3, 6, 9, 11, 12, 13, 15, 23, 24, 29, 53, 77A, 88, 91, 139, 159, 176 and 453.