Trafalgar Square
Trafalgar Square is one of the most important and bustling squares in the centre of London. It was designed in 1830 to commemorate the victory of the British Navy against the French and Spanish fleets in the Battle of Trafalgar.
Top attractions in Trafalgar Square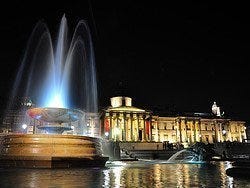 Trafalgar Square and the National Gallery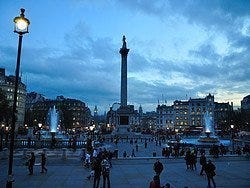 Trafalgar Square at dusk
In the centre of the square is Nelson's Column, built in 1843 in honour of Admiral Lord Nelson, shot and killed in action as command in chief of the British army in the battle of Trafalgar.
The marble column standing 145 feet (nearly 50 m)-tall is topped by a statue of Lord Nelson and guarded by four lions, built with melted bronze from the French Navy canons.
On the north side of the square is the National Gallery and in front there are two impressive fountains that light up when night falls.
In Trafalgar Square there are also various statues of well-known people such as George Washington, given to the English by the State of Virginia. The statue is placed on cement brought specially from the States, as Washington had sworn he would never set foot on British soil again.
Christmas in Trafalgar Square
As a token of gratitude for Britain's support during the Second World War, Norway gives London a fir tree every Christmas since 1947, and it is placed in Trafalgar Square.
A vibrant space
Trafalgar Square is one of the liveliest and crowded squares in London. This square has become a social and political focus for locals and visitors.
Location
Central London
Transport
Tube: Charing Cross (Northern and Bakerloo lines)
Map
Related activities
London is Europe's capital city with most monuments lit up. Enjoy the night-time panoramic views of the city's most famous landmarks on board this open-top double-decker bus.

1,45 hours

26$