Since the seventeenth century, Kensington Palace has been home to several generations of the British Royal Family, from King Willian III to Queen Victoria and Princess Diana.
Located in Kensington Gardens, Kensington Palace has been a residence of the British Royal Family for over 300 years.
The Building
This red-brick Jacobean mansion was remodelled in 1689 and turned into the Monarch's residence up to this day. The building, as with St Paul's Cathedral was designed by Christopher Wren.
Visiting the Palace
The Palace's visitors will be able to satisfy their curiosity walking through the Royal Family's old luxurious private rooms. The mansion's perfectly-well conserved rooms maintain the palace's history disclosed through the exhibition of jewels, dresses, tapestries, letters and other objects that are very well kept. 
The Palace, which has been recently renovated, presently includes a new exhibition on Queen Victoria and a small section on Princess Diana of Wales and her most famous outfits called "Diana: Her Fashion Story". The Palace's gardens are a rich oasis of tranquillity and in the Orangery it is possible to enjoy a cup of English tea with delicious cupcakes.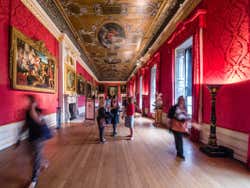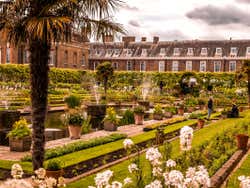 Schedule
March to October: 10 am to 6 pm. (last admission 5pm) 
November to February: 10 am to 4 pm. (last admission 3pm)
Price
Adults: £ 16 (US$ 19.90)
Students and seniors over 65 years old: £ 12.80 (US$ 15.90)
Children between 5 and 15 years old: £ 8 (US$ 10)
Free with the London Pass
Transport
Tube: High Street Kensington (District and Circle lines), Queensway (Central line)
Bus: 9, 10. 49, 52, 70, 94, 148, 390 and 452