The London Underground (Tube) has a network of 11 lines and is the world's first underground railway. With 250 miles of lines, you should find the tube convenient, except if you stay beyond zone 3.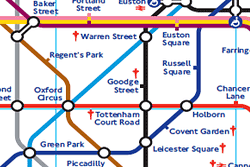 London Tube Map
In the UK, the subway or metro is called "Tube" or "Underground". 
Zones
London is divided into 9 zones that start in its historic centre. Most top attractions are found in zone 1 and 2. Travellers will find Heathrow Airport in zone 6.
When you buy a single journey ticket for the Tube, you have to know what zone your stop is in and what zone you're going to. Unless you're staying in another zone, the most common zones for tourists to visit are 1 and 2.  
Fares
The zone 1-3 includes all stations between zone 1 and zone 3, zone 1-5 includes all stations between 1 and 5 and so on.
Zones 1-3: £4.80
Zones 1-5: £5.80
Zones 1-6: £6.00
As you can see the fares for single-journey tickets are very expensive, so we recommend getting a Travelcard or Oyster Card.
Tube Map
Although you can get a map of the Underground in any Tube station once in London, you can check the following Tube map before getting to your holiday destination:
Times and frequency
There is no set timetable for the tube in London, but it opens approximately at 5 am and closes at 12 am. Trains leave the first station at 12 am. Consequently, by the time it gets to the centre it is normally after 12 am, so you'll be able to take the last train at approximately 1 am.
Frequency depends on the different lines and the time of day it is, but in the centre of London you normally won't have to wait more than 2 – 3 minutes to catch a train.
As of 2016, select lines remain open 24 hours a day on Friday and Saturday. These are the Victoria and Jubilee lines, which remain open in their entirety, as well as the majority of the Central, Northern, and Piccadilly lines.
DLR and London Overground
The DLR (Docklands Light Railway) and the London Overground are two additional services that despite having different names, are completely integrated into the London Tube network.
These two lines are useful for visitors as they both run to Greenwich.