Hyde Park covers 142 hectares (350 acres), making it the largest park in central London. It is the city's most important green lung and where many tourists and residents come to relax and enjoy a bit of fresh air.
Hyde Park throughout the years
The land originally belonged to Westminster Abbey until 1536, when Henry VIII confiscated it and made it into private royal hunting grounds. The park was open to the public during the seventeenth century.
The world fair exhibition of culture and industry, called the Great Exhibition, took place in Hyde Park in 1851. For this event the Crystal Palace was built on the south side of the park, but the building was removed from the area shortly afterwards because of citizen turmoil.  
Hyde Park is considered the oldest park in the city, and since it opened it has housed duals, protests, and concerts.  For special occasions, especially Royal occasions, gun salutes are fired from Hyde Park at midday.
Going for a walk in Hyde Park
As well as going for a walk and forgetting the city's bustling traffic, you can also sunbathe, skate and cycle, among many other activities.
For those that want to rest, but don't want to lie on the grass, deck chairs are available for hire in the park.
One of the top activities, both for tourists and Londoners, is boating on the Serpentine lake, a small oasis inhabited by many species of wildlife.
During the summer multiple events are held in Hyde Park, especially concerts.
Speakers' Corner
In the northeast part of the park you'll find Speakers' Corner, where on Sunday mornings speakers and eccentrics step up to give speeches, discussions and debates on various topics, but mostly on religion and politics. This is an interesting and peculiar place to visit witnessing people gathered to listen, applaud or jeer the different speakers.
Speakers' Corner became famous during the Second World War as it was one of the only places where people could defend Hitler or criticise Churchill without fearing a reprisal. Nowadays, it is possible to speak publically on any topic, as long as the police consider it lawful.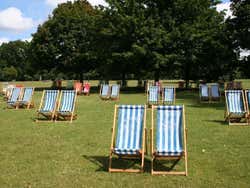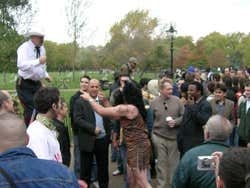 Schedule
If you want to visit the Speakers' Corner, you have to go on Sunday mornings. Otherwise, the park is always open.
Transport
Tube: Knightsbridge and Hyde Park Corner, Piccadilly line; Lancaster Gate, Queensway and Marble Arch, Central line.
Bus: 2, 6, 7, 8, 9, 10, 14, 15, 16, 19, 22, 30, 36, 38, 52, 73, 74, 82, 137, 148, 274, 390, 414 and 436.