Westminster Palace, also referred to as the Houses of Parliament, is a Gothic style building where the House of Commons and the House of Lords meet (the two houses of Parliament of the United Kingdom).
Old Palace
In October 1834, a devastating fire destroyed the old palace, which had been headquarters to the Parliament since 1512. The palace was also a royal residence since the reign of William the Conqueror.
Only Westminster Hall, the Chapel of St. Mary Undercroft in the crypt and the Jewel Tower (built during the fourteenth century where the jewels and gold were kept) survived the fire.
New Palace
Out of the 97 projects presented during the subsequent competition for the reconstruction of the Palace, the winners were the architects Charles Barry and Augustus Welby Pugin. In 1847, the building was practically finished with 1,200 rooms, 11 courtyards, and 2,1 miles of corridors.
The sumptuous façade offers a breath-taking panorama, where you can see the gilded pinnacles and the statues of the English kings reflected in the Thames. Victoria Tower, the largest and tallest tower, is found in the south-western part of the Palace, where a copy of all of Parliament's laws is kept. On the north side of the Palace is the world-famous tower, Big Ben.
Visiting the Palace of Westminster
The Palace of Westminster can only be visited on Saturdays or during July and August. To get the tickets you can queue and get them on the same day of your visit. Nevertheless, we recommend you get there early so as not to wait too long.
If you want to attend a debate, it is possible to go to St. Margaret Street from Monday to Thursday and certain Fridays as well.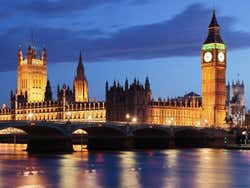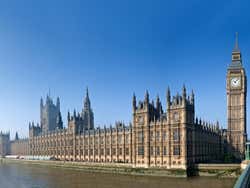 Schedule
Guided tour
Saturday: 9:15 am to 4:30 pm.
August
Monday: 1:15 pm to 5:30 pm
From Tuesday to Friday: 9:15 am to 4:30 pm
Watch debates and committee hearings (from October to July)
Monday and Tuesday: 2:30 pm to 10:30 pm
Wednesday: 11:30 am to 7:30 pm
Thursday: 10:30 am to 6:30 pm
Price
Adults: £ 29 (US$ 36.20)
Students: £ 24.50 (US$ 30.50)
Children (5-15): £ 13 (US$ 16.20)
Transport
Tube: Westminster, lines Circle, District and Jubilee.