Portobello Road Market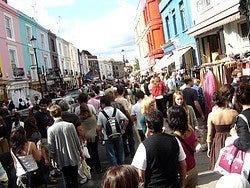 Portobello Road Market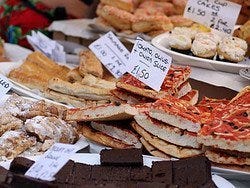 Food sall in Portobello Market
Portobello Road Market is one of London's top attractions and a definite must-see. It is the world's largest antiques market with every kind of antique and collectible, including watches, furniture, jewellery and stamps.
The Portobello Road Market is named after the street it's found on, Portobello Road. This street connects Notting Hill and Ladbroke Grove. In addition to the colourful stands on the main street, visitors will find shops and stalls on certain perpendicular streets like Westbourne Grove.
To get to Portobello Road Market, the best option is to take the tube. The closest stations are Notting Hill Gate (to the south) and Ladbroke Grove (to the north).
We recommend you start in Notting Hill and finish in Ladbroke Grove. This way if you get hungry you can try some of the street food in the food stands that are in the northern part of the Market.
When to visit Portobello?
The main day to visit Portobello Road Market is on Saturdays, and to avoid the crowds, we recommend visiting the Market in the morning. On the weekends is when Portobello Road and Kensington Park Road are packed with stalls full of clothes, food, antiques and accessories.
Location
Portobello Street
When to visit
Saturday - main day
Friday - second busiest day
Transport
Tube: Notting Hill Gate, Circle, Central, District lines. Ladbroke Grove, Hammersmith & City line
Buses: 7,12, 23,27, 28, 31, 70, 94 and 328.

Map
Hotels nearby