St Paul's Cathedral
Designed by Christopher Wren, St Paul's Cathedral stands 365 feet (111 m) tall and is the second largest cathedral in the world, after St Peter's Basilica in Rome.
Sacred grounds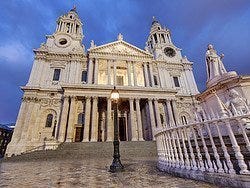 St. Paul's Cathedral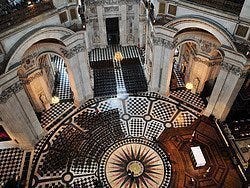 Inside St Paul's Cathedral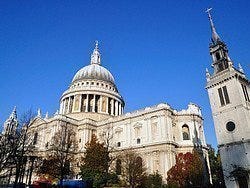 St. Paul's Cathedral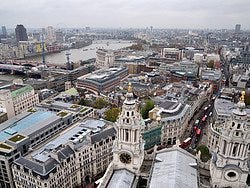 Views from the top of St. Paul's Cathedral
The site where St Paul's Cathedral is built has been the home of other religious buildings dating thousands of years ago, including a Greek temple and a dolmen. The Greek temple was replaced by the oldest church in England, founded in 604 AD.
The church, made of wood, was one of the many buildings to be destroyed in the Fire of 1666. It was reconstructed several times, until St Paul's Cathedral was erected between 1676 and 1710.
Services held at the Cathedral include Churchill's funeral and the wedding of Charles, Prince of Wales and Lady Diana.
Inside St Paul's Cathedral
St Paul's Cathedral is a colossal temple in the shape of a cross with a striking decoration, especially its beautiful ceilings decorated with frescos.
We recommend visiting the church with the free multimedia guide given to all with the admissions ticket, as it narrates all the interesting details of all the different parts of the Cathedral.
Dome
The dome is probably St Paul's most impressive part. It is composed of three circular galleries. Walking up a flight of 257 steps, visitors will reach the first gallery, the Whispering Gallery, standing at 99 feet (30 m) tall. It has impressive acoustic properties so any whisper or murmur at the other side of the gallery can be heard clearly.
The Stone Gallery is reachable after climbing another 376 steps. Here you get some impressive views of the city, but not as breath-taking as those from the highest point of the cathedral, the Golden Gallery, standing 214 feet (85 m) tall. 
Crypt
The Cathedral's core is perforated forming a large underground crypt in which fragments of previous temples remain, as well as different monuments and memorials. It is also a burial ground for some of UK's most famous citizens, including Lord Nelson, Wellington and Churchill.    
Difficult access to the Dome
Although the visit to St Paul's Cathedral and its crypt are highly recommendable, the access to its dome can be a little difficult for some, as the stair case is poorly lit and not very accessible.
If you want to visit St Paul's Cathedral and skip the lines, click on the following link:
Location
City of London
When to visit
Monday to Saturday: 8:30 am to 4:30 pm
Fares
Adults: £18.
Students and seniors (over 60): £16
Children (ages 6 to 17): £8

Transport
Tube: St Paul's (Central line)
Buses: 4, 11, 15, 23, 25, 26, 100 and 242.

Map
Related activities
SKIP THE LINE

Visit St Paul's Cathedral in London, the second largest temple in the world, after St Peter's Basilica in Rome, and enjoy its impressive architecture and views of London with fast entry tickets

As long as you wish

26$