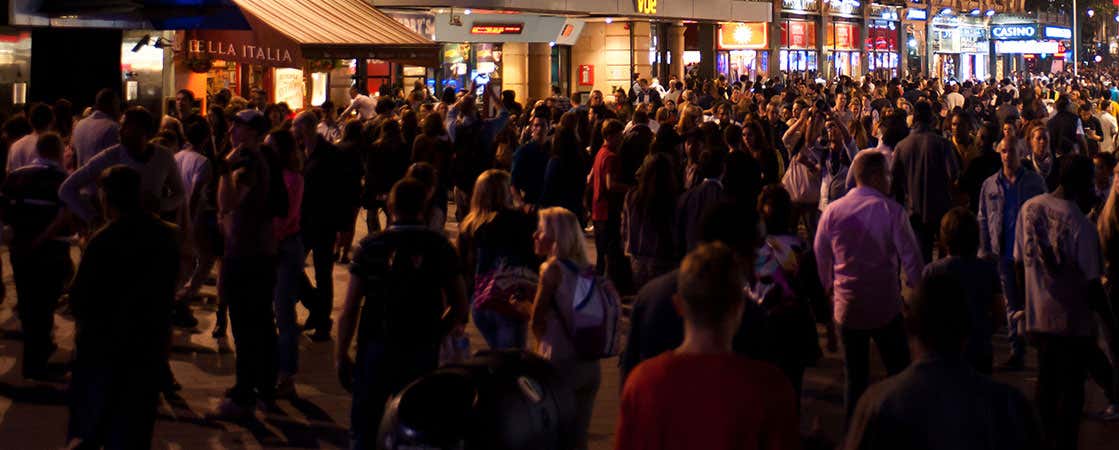 London nights are endless and able to satisfy even the most demanding of tastes. Discover the best places to party in London.
London is widely known for its varied and colourful nightlife, not only on the weekends, but also during the weekdays. Tourists will find areas, neighbourhoods, pubs, bars and clubs to cater for all tastes and moods.
Best areas to go out in London
These are the top five places and areas to go out at night:
Mayfair: Situated in the heart of the city, Mayfair is one of the most expensive and exclusive areas of London with five-star hotels, shops, restaurants, bars and pubs. The most popular street is Bond Street. This area should be avoided by travellers on a budget. 
Soho: Soho is a must on any travellers list when visiting London and especially at night time. Located in central London, it is famous for its trendy restaurants, live music venues, cool bars and clubs. It is also the hub of gay nightlife in the city.
East London: East London is a vibrant and culturally interesting neighbourhood. It is home to numerous large events and is known for its exclusive restaurants, bars and clubs. London's hippest areas: Shoreditch and Dalston can be found here.
Camden: Located in north-west London, it is a well-known area for its market and lively bohemian nightlife. This is the place to go if you like live gigs. This area is sure to captivate all that venture to its pubs and bars.
South Kensington: Kensington is one of the wealthiest neighbourhoods in London. It is also known for its array of chic restaurants and exclusive clubs, making it a top place to go for a cocktail and to discover London's nightlife.
Clubs in London
These are some of the top clubs in London:
Cirque Le Soir: With an exclusive and opulent show every night, Cirque Le Soir combines the circus world with London nightlife. The show includes magic tricks, acrobats, clowns and contortionists in an electric and hypnotizing atmosphere. This club is for a select audience only.
Funky Buddha: In the heart of Mayfair, Funky Buddha is one of London's most exclusive clubs. For a high-end audience, including celebrities, it opens on Tuesdays and Thursdays until Sunday.
The Roof Gardens: The Roof Gardens is one of the top clubs in London. Situated on the 6th floor of old Derry and Toms building on Kensington High Street, the club has a garden covering 1.5 acres (6,000 m²). This glamourous club is strictly for over twenty ones and is open on Friday and Saturday.
Boujis: Boujis is one of South Kensington's best clubs. It offers a unique experience and its partygoers include some of the world's most influential celebrities. It is also known for having introduced some of the best national and international DJ's to the music scene.
When to go out?
Before you plan a night out in the city, note that most pubs close at 11pm from Monday to Saturday. Bars, on the other hand, usually close between midnight and 1:30 am on weekdays and weekends and clubs generally stay open until 4 am. However, it is possible to find a few clubs open until 7 or 8 am, for example, Fabric.
Free entry to London clubs
If you want to go clubbing in London, but would rather not pay to get in, you can join the guest list of several clubs on the following website: