Cycling in London
Although London is very spread out and the weather isn't normally very inviting, many locals prefer cycling to taking public transport or driving to get around the city.   
Santander Cycles
Santander Cycles is the bicycle-sharing system in London, especially designed for getting around the center of London.
There are 400 docking stations and over 6,000 bicycles. As this is a self-service system, the bicycles can be used 24 hours a day throughout the year.
How to hire a Santander Cycle?
To hire a Santander Cycle you will have to pay an access fee and usage charges. You can register at any of its docking stations with a bank card.
To start using the bike you will have to follow the instructions on the screen where you will be given a printed code that must be introduced into one of the lighted docks.
To return the bicycle you have to place it back in one of the docks and wait until the light goes green.
Fares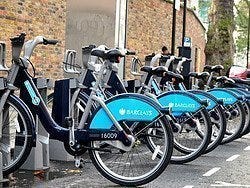 Bicycle-sharing in London
Access fees: 
24 hours: £2
1 year (only available for members): £90
Usage charges: 
First 30 minutes: Free
From 30 minutes onwards and for every additional half hour: £2
Extra charges:
You may be charged up to £300 if you give it in late or damaged.
The total amount will be charged once you have left your bike on the dock.

Advice
These bicycles are designed for short rides, therefore if you take a bike out for less than 30 minutes, dock it and then take out another bike for less than 30 minutes you will only be charged £2, as the first half an hour is free.