Located in the southeast part of Hyde Park, in Hyde Park Corner, Apsley House is a Georgian building completed in 1778 and home of the first Duke of Wellington.
The building
The estate was built by Robert Adam for the Baron of Apsley, giving its name to the building. Fifty years later, the house was bought and remodelled by the first Duke of Wellington, hero of the Battle of Waterloo, where Napoleon was defeated.
Apsley House has changed very little since it was lived in by the Duke of Wellington and the decoration that was personally chosen by the Duke remains intact.
Visiting Apsley House
The Duke of Wellington, without having the least bit of love for art, managed to collect an enormous amount of artistic treasures that were given to him as a sign of gratitude for his many military achievements.
The Apsley House features an impressive art, furniture, porcelain and silver collection, all beautifully presented. Additionally, the 200 paintings include works by Goya, Velazquez, Van Dyck and Pieter Bruegel.
The Duke of Wellington also owned a colossal statue of Napoleon I of France by Antonio Canova, a set of Sèvres porcelain that had belonged to Louis XVIII and magnificent Portuguese silver working.
Good but not the best
Apsley House is a stately mansion, beautifully decorated and full of different works of art. Nonetheless, in London there are several other similar estates like Sir John Soane's Museum and the Wallace Collection, which are both free and just as impressive.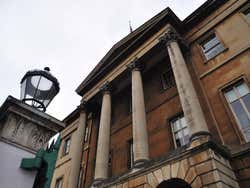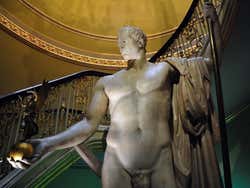 Schedule
April-October: Wednesday-Sunday, 11am to 5pm
November-March: Weekend Only, 10am to 4pm
CLOSED over the Christmas period 23rd December - 1st January.
Price
Adults: £ 12.90 (US$ 16)
Children between 5 and 17 years old: £ 7.70 (US$ 9.60)
Students and people with reduced mobility: £ 11.60 (US$ 14.40)
Free entry with the London Pass.
Transport
Tube: Hyde Park Corner (Piccadilly Line)