Climate of London
London is famous for being grey and drizzly, and although it rains less than in cities such as New York, Sydney or Toulouse, it is very likely that you will experience some bad weather during your stay.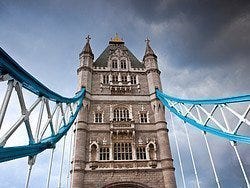 Typical cloudy day in London
Weather in the UK's capital varies constantly throughout the day, and although the temperatures are not usually extreme, it is common to get rain, sunshine, clouds, and more rain on the same day.
Precipitations are frequent during the whole year, so it's a good idea to always carry an umbrella or raincoat when visiting the city.
Although it rains quite often, it is usually drizzle, which normally means that even though it's a little drab, you'll still be able to continue your sightseeing.
Temperatures in London
London has a mild temperature all year round and therefore during the winter months (from December to March approximately) it is normally between 32°F (0°C) and 47°F (8°C). It is unusual to get temperatures below freezing.
The summers are usually warm and sometimes can be hot. The sunniest months are July and August, with an average temperature of 62°F (17°C). However, it is also very likely to rain during these months, so always take an umbrella with you.
London Weather Forecast
Wednesday

7°

0°

Thursday

5°

-1°

Friday

5°

-2°

Saturday

5°

-3°

Sunday

2°

-3°