Big Ben
The Palace of Westminster's famous clock tower has become one the city's most famous landmarks, as well as one of the most iconic symbols of London.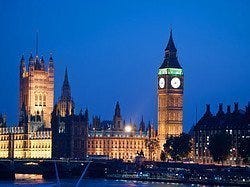 Big Ben lit up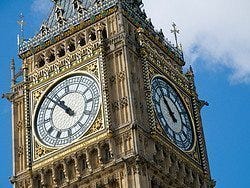 The Palace of Westminster's famous clock tower
The gothic-styled tower standing 315 feet (96 m) high holds a four-faced clock and was built in 1858 at the far end of the Parliament.
The truth about Big Ben
When we envisage Big Ben, we normally think of the Parliament's clock tower. However, Big Ben is actually the clock's Great Bell, which weighs 14 tons and is found inside the tower called Elizabeth Tower.
British punctuality
Big Ben's four-faced clock is set in a 23 feet (7m) frame on all sides of the Tower and was completed in May 1859. It has become one of the most recognisable British icons and its chimes are broadcasted by BBC radio every day.
It is one of the world's most reliable clocks, withstanding rain, wind and snow. It even kept chiming during the bombing attacks of World War II.  
Although there are few occasions when Big Ben has suffered punctuality incidents, Londoners will never forget 1962 New Year's Eve, when the clock chimed the new year 10 minutes late due to the harsh weather conditions.
Location
In the Palace of Westminster
Transport
Tube: Westminster (Circle, District and Jubilee lines)
Map
Related activities