Shakespeare's Globe Theatre
Although only a recreation of the original theatre, the Shakespeare Theatre Company's own auditorium is one of the most famous theatres in the world.
The Globe Theatre is an accurate reconstruction of the theatre built in 1559 in which Shakespeare performed his most famous plays. Located less than 750 feet (200 m) from the site where the original theatre was, the new construction was built based on different sources to create a theatre practically identical to the original.
History
The Globe was originally built in 1599 by William Shakespeare's playing company. Many of the playwright's most famous plays were written to be enacted in the Globe, becoming one of the most successful theatres in London at the time.
The theatre went up in flames during one of its performances in 1613, when the beams and thatch roof were set alight by accident, destroying the building.
The following year, a new theatre was built on the same grounds, where Shakespeare and his playing company performed until 1642, when all the city's theatres were closed down by the Puritans. Two years later, the theatre was demolished.
On a visit to London in 1949, American actor, director and producer Sam Wanamaker, was disappointed to see that William Shakespeare only had a commemorative plaque in his honour. Thus, in 1970, he began to raise funds for the reconstruction of the Globe Theatre, which was open after the actor's death in 1997.
Today's Globe
Presently, plays are staged in the summer months (May to October), as was done during the sixteenth century. The theatre is also open for educational purposes and it is possible to take a tour of its stands, divided into different areas depending on the social class the spectators belonged to. During the visit you will get to see the stage with its secret trap doors, allowing Shakespeare's characters to appear from the top or bottom of the stage.  
Seeing a play at the Globe Theatre
For those travelling to London between May and October, we recommend going to see one of its performances. Like this, you'll see the theatre, but in a more enjoyable and entertaining way. Tickets vary depending on the seat you choose, but you can get tickets for the Yard (standing) for £ 5 (US$ 6.20).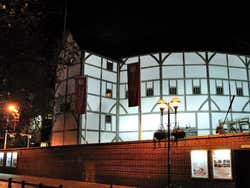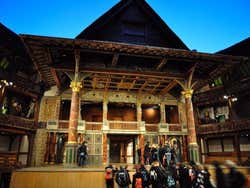 Schedule
Every day from 9 am to 5 pm (As this is a working theatre this schedule does vary based on performances, rehearsals etc).
Price
Adults: £ 13.50 (US$ 16.70)
Students: £ 11 (US$ 13.60)
Children between 5 and 15 years old: £ 8 (US$ 9.90)
Children under 5 years old: free entry
Free entry with the London Pass.
Shakespeare's Globe Tour £ 25 (US$ 30.90)
Transport
Tube: Mansion House (District and Circle lines), London Bridge (Northern and Jubilee lines), Southwark (Jubilee line), St. Paul's (Central line)
Buses: 11, 15, 17, 23, 26, 45, 63, 76, 100, 344 and 381.