Camden Town
Camden Town is the best-known part of Camden. Very popular thanks to its market and because of the alternative style of its residents.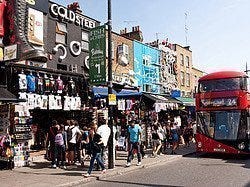 Camden Town street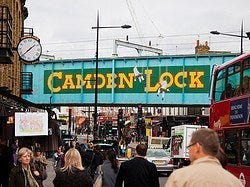 Camden Lock bridge in Camden Town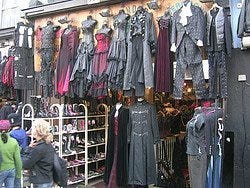 Clothes in Camden Market
During the day the area is full of tourists and is a definite must-see. However, this neighbourhood is not recommended at night time.
Where to eat in Camden Town
In Camden Market there are plenty of food stands, but the most appetizing ones are those located in the square, although they're a little more expensive. You can also find tasty food in the fixed stands found in the porches, and in the international food stands, where you can get trays of food for 3 or 4 pounds.
It is interesting to see how the food becomes cheaper and cheaper as the evening approaches and finally the food trays cost £1.
Camden Town stands  
Due to Camden's alternative residents, most of the shops in Camden Town sell gothic clothing or are tattoo and body piercing studios.
Within the market itself you'll find stalls to cater for all tastes, and in the square's main building, where the food stands are, you'll find shops and stalls with very peculiar items.
To visit Camden Town Market you'll need to spend at least a whole morning wandering its streets as the area is sizable. Sunday is the best day to visit this unique Market.  
Although Camden Town is full of striking shops, Cyberdog is one that specially caught our attention, with techno music blaring out played by a DJ, go-go dancers, and very interesting clothing, including space suits. 
Location
In Camden
When to visit
Camden Market opens seven days a week: 10 am - 6 pm
Transport
Tube: Camden Town, (Northern line).
Map
Hotels nearby