Shopping in London
London is one of the top destinations for shopping. Contrary to what you might think, there is an infinite number of non-expensive clothes and electronic shops in central London.  
London offers a variety of department stores, street markets, vintage shops and high-end boutiques, which will satisfy all tastes and budgets. 
What to buy in London?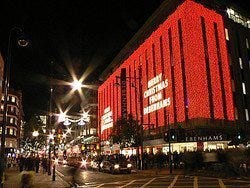 Oxford Street Christmas lights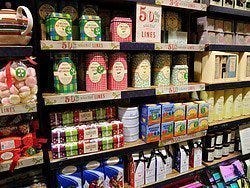 Tea shop
Some of the most cherished objects from London are the typical souvenirs, such as bags, t-shirts, miniature versions of red telephone booths, double-decker buses or black cabs. You can never go wrong with these types of souvenirs.  
For those who are planning to renew their wardrobe, you have a wide range of options for all different types of tastes in clothes and accessories, from more classical cuts, to authentic vintage outfits.
English tea is a highly sought-after product when visiting London. The most popular types of tea include Earl Grey, with a slight citric taste, Darjeeling tea, Black tea with a floral aroma, Assam tea, strong black tea, and the famous English Breakfast tea (combination of Assam and Ceylon tea).
Although there are an infinite number of shops in London that sell tea, we recommend the same shop where Queen Elizabeth buys her tea; Fortnum & Mason. This is the largest tea shop in the city. It opened in 1707 and it offers over 60 kinds of tea. You will find it on Piccadilly.   
Where to go shopping in London?
We recommend five alternative shopping destinations in London for different types of public:
Hamleys Toy Shop in Regent Street
Oxford Street: Probably the most famous shopping street in London. Here, you'll be able to find the most popular shops and department stores.
Covent Garden: One of the liveliest areas of London. Inside the market and in its adjacent streets you'll find clothes, accessories and souvenir shops.
Knightsbridge: A retail district in central London, with famous department stores like Harrods and Harvey Nichols.
Bond Street: The ideal place for those looking for high-end boutiques. Channel, Armani or Versace are some of the designer stores found on this street.
Regent Street: Full of fashionable clothes shops, Regent Street is one of the most popular retail streets in London. It is also worth mentioning the oldest toyshop in the world, Hamleys, a wonderland for both children and adults and comparable to the recently closed FAO Schwarz toy store in New York.  
Street markets