Opened in 1990 and located in a Georgian town house, the Sherlock Holmes Museum is dedicated to the life and period of the famous detective Sherlock Holmes.
According to the author Sir Arthur Conan Doyle, the Georgian house located on Baker Street was where the main characters of his novel, Sherlock Holmes and Doctor Watson, lived as tenants of Mrs Hudson.
Discovering the house
The three-story building where the two fictional detectives "lived" from 1881 until 1904 is decorated in the same style as described in the different novels, packed with furniture and decorative objects from the period.
The first floor is the most memorable of all. Visitors will find Sherlock's bedroom, as well as the study where he and Doctor Watson worked on every crime.
On the building's second floor is Doctor Watson and Mrs Hudson's rooms, full of the characters' personal items as if they were about to return at any minute.
Wax figures representing different characters of the detective's most important cases are located on the third floor.
For all those who love crime fiction
It is curious to visit this town-house with furniture and items from the nineteenth century. Every small detail of the museum fits perfectly with Sir Arthur Conan Doyle's descriptions. We especially recommend this visit to all Sherlock Holmes' fans and lovers of mystery novels. This is a unique opportunity to see how the detectives would have lived.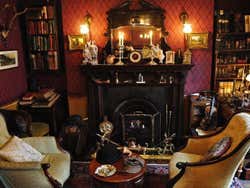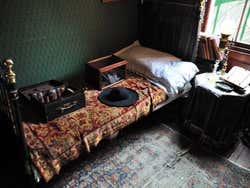 Schedule
Open daily: 9:30 am – 6 pm.
Price
Adults: £ 16 (US$ 19.70)
Children under 16: £ 11 (US$ 13.50)
Transport
Tube: Baker Street, Bakerloo, Circle, Jubilee, Metropolitan and Hammersmith & City lines.