Harrods is London's most famous department store. Located on Brompton Road in Knightsbridge, it is very close to Hyde Park.
History
In 1834, Charles Harrod established a wholesale grocery and in 1849 moved to Brompton, opening a store on the site of the current department store. In the following years, the shop expanded by purchasing neighbouring houses and buildings.
In December of 1883, Harrods was burnt to the ground but was reconstructed shortly afterwards on a larger scale. The department store was bought by Egyptian Mohamed Al Fayed in 1985 and sold to Qatar Holdings in 2010. 
Harrods offers an extravagant decoration with statues, fountains and halls adorned with different motifs. One of the most surprisingly decorated floors is the Egyptian hall. It is also worthwhile seeing the two memorials to Diana, Princess of Wales.
Prices
Harrods is one of the most exclusive department stores in the world. Therefore, in general, it sells expensive merchandise. Many tourists buy small souvenirs here such as tea, stuffed toys, chocolates and other inexpensive goods to bring to their families and friends.  
Interesting facts
The world's first escalator was installed in Harrods in 1898. During the first few weeks, the customers didn't want to use them as they were scared and suspicious of this new invention. Harrods convinced them to use the escalator by giving away free brandy.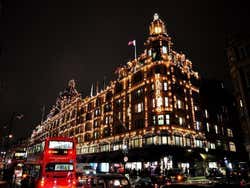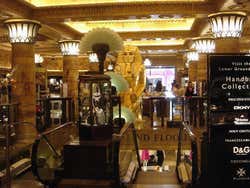 Schedule
From Monday to Saturday: 10 am to 8 pm
Sunday: 11:30 to 6 pm
Transport
Tube station: Knightsbridge (Piccadilly line)
Buses: lines 9, 10, 14, 19, 22, 52, 74, 137, 414 and C1