Piccadilly Circus is where many locals and tourists choose to meet because of its privileged location in the heart of London, and as it is close to important leisure and shopping areas.
This legendary square was founded in 1819 and became an extremely important junction since its construction. 
An icon of modern London
The square is famous for its neon signs, different displays and the Eros fountain located in the middle of this road junction, which is now one of the city's top landmarks.
Piccadilly Circus offers a variety of cinemas, theatres, shops and restaurants, including famous traditional English pubs.
This square is one of the liveliest areas in London and one of the main areas to go out partying. In the vicinity, there are many places offering discounts and drinks at some of the bars and clubs in Piccadilly Circus.
The epicentre of leisure
Piccadilly Circus is synonymous with leisure and entertainment. Crowded at all hours of the day, we recommend visiting this square during the evening, when the brightly lit advertisements adorning the buildings brighten the intersection, giving it a unique appearance.
As well as restaurants, bars and theatres in the area, it is worthwhile visiting the Trocadero, a large amusement arcade.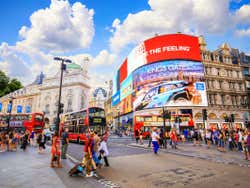 Transport
Tube: Piccadilly Circus (Piccadilly and Bakerloo lines)