The London Transport Museum is just as edcucational for adults as it is for children; depicting the evolution of London's means of transport throughout history
London's transport chronicle is closely tied to the city's social life and to the development of the city, as some boroughs began to be populated with the arrival of the tube and other means of transport.
From 1980, the museum is located in Covent Garden's old flower market, a sizable Victorian building made of iron and glass.
Exhibitions
The museum's various exhibitions include a vast number of elements, from photographs that show the evolution of the transport system in London, to the first billboards used to try and convince locals to use the city's public transport.
All items are displayed chronologically, making the exhibitions simple to understand, so visitors will clearly see the evolution of the transport system throughout the centuries in London.
The museum also includes several relics, such as the oldest urban bus in London that was pulled by horses, the first locomotive used when the railway was built or the models of the earliest double-decker buses in London. 
Family-friendly museum 
The London Transport Museum is entertaining, interactive and educational, in which both children and adults will enjoy seeing the several means of transport that have transformed London. A drawback is that visitors will have to pay an admission fare which is quite pricey.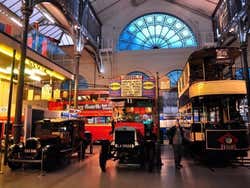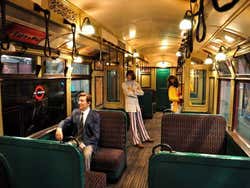 Schedule
Open daily: 10 am – 6 pm (Friday from 11 am)
Price
Adults: £ 21 (US$ 26.10)
Students and seniors over 60 years old: £ 20 (US$ 24.90)
Children under 18 years old: Free entry
Free entry with the London Pass.
Transport
Tube: Covent Garden, Piccadilly line.
Bus: Strand or Aldwych, RV1, 9, 11, 13, 15, 23 and 139.