National Portrait Gallery
Adjacent to the National Gallery, the National Portrait Gallery is an art gallery with a vast collection of portraits of famous British people.
The collection
The portrait collection was founded in 1856 with one purpose; to bring together portraits of the most important and famous people in Britain's history to inspire others. When the museum was opened, it only displayed portraits of those deceased. Currently, this is no longer the case, and famous British citizens that are still alive are included in the exhibitions.
The museum houses paintings, photographs, drawings, sculptures and caricatures, which are not necessarily outstanding works of art, but hold a great historic value and significance, as documentation of several periods of the UK's history.  
Exhibitions
Starting on the top floor, the portraits are displayed chronologically. Visitors will find paintings of various Tudor and Stuart family members dating from 1485, as well as portraits of the most influential people from the English Reformation period (from the sixteenth century).
Paintings of the most relevant British citizens from between 1837 and 1990 can be found one floor down, including pictures of Queen Victoria, Sir Winston Churchill, and Paul McCartney. 
The lower gallery features contemporary portraits from 1900 to the present day, as well as some temporary exhibitions.
An unusual museum 
Although the National Portrait Gallery is not as well-known as its neighbouring National Gallery, it is a truly interesting museum. Here, visitors will get to discover the most important periods of English history through portraits of hundreds of famous British citizens, including William Shakespeare.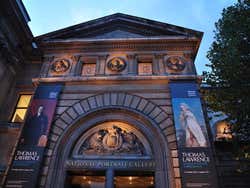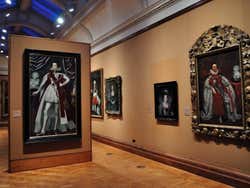 Schedule
Open daily: 10 am – 6 pm (Thursday and Friday open till 9 pm).
Transport
Tube: Charing Cross, Northern and Bakerloo lines; Leicester Square, Northern and Piccadilly lines.
Bus: 3, 6, 9, 11, 12, 13, 15, 23, 24, 29, 53, 77A, 88, 91, 139, 159, 176 and 453.