Changing the Guard
Changing the Guard is one of the most popular attractions in London. During the ceremony that takes place in Buckingham Palace's forecourt, the Old Guard (guards that have already been on duty) are relieved by the New Guard and are accompanied by a military marching band.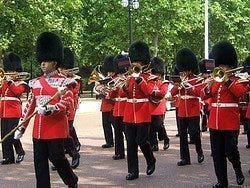 Changing the Guard at Buckingham Palace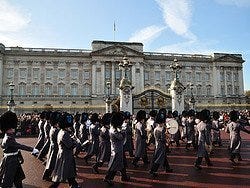 Changing the Guard
During the event, which takes approximately 45 minutes, in which the Guards wearing their bearskin caps parade to the beat of military and less traditional music.
When does it take place? 
The ceremony takes place every day at 11:30 am from May to July. The rest of the year, it is held every other day, except when it's raining, in which case the ceremony is usually cancelled. 
In the following website you can check out the calendar:
A famous but if somewhat dull ceremony
Although Changing the Guard is one of the most popular attractions in London, the ceremony, in our opinion, is too long and monotonous, especially if you've been waiting for over an hour to get a good spot.
If you're planning to see Changing the Guard, we recommend getting there early and finding a place near the gates of Buckingham Palace to have the best views possible. 
Location
Forecourt of Buckingham Palace.
When to visit
May - July: every day at 11:30 am.
Rest of the year: every other day

Transport
Tube: Green Park (Jubilee, Piccadilly and Victoria lines)
Buses: 11, 211, 239, C1 and C10.

Map
Related activities